We pride ourselves on our commitment to quality service. Here are the people working for you every day to repair your vehicle.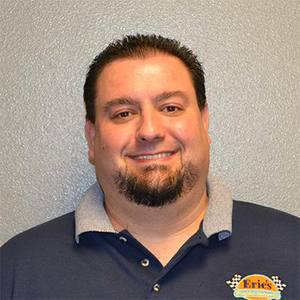 Eric Particelli
Owner & Operator
Eric has been serving the automotive needs in Fallbrook since his teenage years in the early 90's. After graduating from Fallbrook High School in 1994, he worked for a couple repair shops until he began managing his father's business down on Main Street. In the late 90's, Eric split off from his father and went to work for Ford Quality Care as a technician, ironically in this very building!! Eric always desired owning his own shop, like his dad before him.
In 2008, Eric signed the papers and Eric's Precision Autoworks was born! With this new shop, Eric had one vision.. to create the most state of the art program for auto repair that Fallbrook has seen. Eric believes strongly in hiring the best employees, investing in the best equipment, finding the deepest resources, and attending the latest training classes.
Eric is proud of the following accolades:
-ASE Master Technician Certification
-STAR Smog Inspection & Repair Certification
-AAA Approved Auto Repair Certification
-Diesel Repair Certification
-ASE Service Consulting Certification
-Napa Auto Care Certification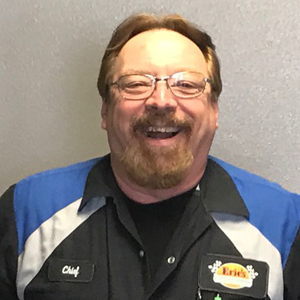 Michael Lloyd
'THE CHIEF'
Chief joined Eric's team at the end of 2015 as our Service Manager. After serving the community at another local shop in the area for near a decade, Chief decided it was time to move onto greener pastures. He laid down his tools and began helping people one on one from behind the desk, instead of under the hood. Chief has over 50 years in the industry, during which time he's owned Gas Stations, Repair Shops, and even spent time as a General Service Manager for Nissan back in the day! Chief shares all these years of his experience with all of the team as well as our clients that enter the shop. As a devout Christian, Chief is always the first one to offer a hand to anyone who needs it! The honesty and Integrity that Chief brings to our team, is a true blessing. You won't find a more dedicated or loyal individual anywhere!
The list of past accolades that Chief has held are too much to list He currently holds ASE C1 Consulting certification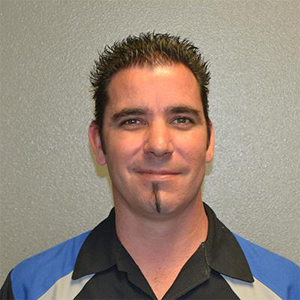 Steve Broadway
Heavy Line Specialist
Steve owns and operates his own company called Unleashed Performance, which is dedicated to custom powertrain repairs, upgrades and replacements. Steve has worked alongside Eric since the very beginning of the company, and actually even before that at Eric's dad's shop. Steve's mechanical abilities are unmatched in the industry! The precision and efficiency that goes into every one of Steve's major repairs makes him a true Perfectionist. You will never hear the words 'good enough' nor will you ever find Steve with leftover bolts from any major overhaul. In fact, Steve's meticulous reputation for mechanical work is the main reason you see some hot rods or classics around the shop at times!
Steve is proud of the following accolades
-ASE Automotive Electrical Certification
-ASE Engine Performance Certification
-ASE Advanced Engine Performance Certification
-STAR Smog Inspection Certification
And currently training for master certification!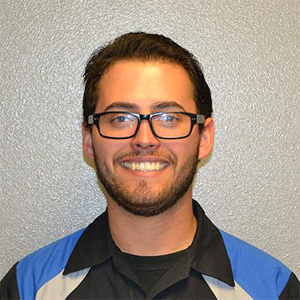 Ryan Evans
Brakes & Suspension Specialist
Ryan joined Eric's Team in 2012 after working for Ford Auto Care again in this very building. Ryan spent his post high school days in a vocational tech school which is known for breeding the finest young automotive technicians the industry has to offer. As a graduate of UTI, along with his previous FORD experience, Ryan makes a valuable asset to our team here. Ryan always attacks every problem with a questioning mind and doesn't stop until he finds the answer.
Ryan is Proud of the following Accolades
-ASE Brakes Systems Certification
-ASE Suspension Systems Certification
-ASE Heating & Air Conditioning Certification
-ASE Automotive Electrical Certification
And is currently training towards Master Certification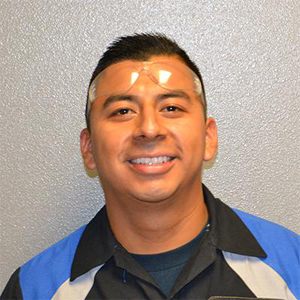 Roberto Higinio
Emissions & Diagnostics Specialist
Roberto joined Eric's Team in 2012 as a Vehicle Maintenance Specialist, while attending night school to obtain his SMOG certification. The hard work and Ethic that Roberto put in, saw him earn his certification faster than most normal technicians. After taking many update courses and years of hands on training as an apprentice, Robert found himself as the lead SMOG technician in the shop.
Robert is proud of the following Accolades:
-ASE Automotive Electrical Certification
-ASE Engine Performance Certification
-STAR Smog Inspector Certification
-Diagnostic Strategy Certificate of Proficiency
And is currently training towards ACDC Hybrid Certification